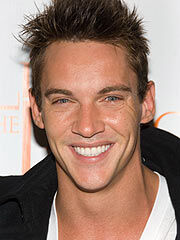 Jonathan Rhys-Meyers is an Irish actor who stars as King Henry VIII in all four seasons of The Tudors.
Television and Film
[
]
Rhys-Meyers began acting in 1994 after being expelled from school in 1993 for truancy; he was approached at a pool hall by a casting agent. Although he didn't get the first audition, the agent encouraged him to keep trying, and next year he landed his first role in A Man of no Importance.
Rhys-Meyers is known for his role as Henry in Showtime's The Tudors (a role for which he won an Irish Film and Television Award, and was nominated for a Golden Globe Award). He has also starred in the films Mission Impossible: III and Elvis (winning a Golden Globe for the latter performance), which helped bring his career to prominence; since then, he has acted in a number of Irish, British and American films, including his starring roles in Velvet Goldmine, Bend it Like Beckham, and Match Point.  In 2013, he also starred as the titular character in NBC's Dracula.
Personal life
[
]
Rhys-Meyers was born in Drimnagh, County Dublin, Ireland in 1977.  He has been in and out of rehab for alcoholism several times between 2005 to 2011. He is married to Mara Lane and they have a son, born in December 2016. Rhys-Meyers currently divides his time between London and Los Angeles.