Jurassic World: Dominion Dominates Fandom Wikis - The Loop
Play Sound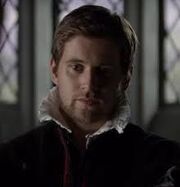 Francis Dereham is the former lover of Queen Katherine Howard, whom she appointed as her private secretary after he blackmailed her with knowledge of her sexual history from her time living in the Duchess' house.  He was arrested on suspicion of adultery in episode 4.05 of The Tudors; after being questioned and tortured, he was sentenced to be hanged, drawn and quartered.  Dereham was brutally executed alongside Katherine's current lover, Thomas Culpepper.  He was played by Irish actor Allen Leech, and appeared on only two episodes of Season Four.
Character history
[
]
Dereham arrives at Henry's court in episode 4.04, bearing letters of introduction from the Duchess who had Katherine as her ward; he is immediately recognized by Katherine and her childhood friend Joan Bulmer.  Dereham doesn't show Katherine much decorum or respect, implicitly threatening to reveal her past if she doesn't give him a position at court.  Katherine reluctantly complies and makes him her private secretary, though she clearly begins to regret it when Dereham acts blatantly familiar around her and Joan, especially when he becomes drunk.  Several of Katherine's footmen reprimand Dereham for his inexcusable behavior, but he recklessly boasts that he himself has had carnal knowledge of Katherine before she was Queen.  Joan privately explains to Lady Jane Rochford that Dereham (a worker) and a music teacher, Henry Mannox, used to regularly come to their rooms in the Duchess' house and have sex with them, and that Dereham and Katherine had an informal promise they would marry; however, Dereham had gone away to Ireland for some time, and when he returned Katherine had become Queen.  Dereham is faced with a new enemy when he encounters Katherine's current secret lover, the King's groom Thomas Culpepper.
In episode 4.05, a letter is delivered to King Henry accusing Katherine of adultery; Henry orders the matter investigated, and Joan Bulmer (one of the first questioned) quickly names Dereham as the Queen's former lover, to avoid punishment.  Dereham is arrested, taken to the Tower and interrogated by Edward Seymour, Earl of Hartford, and under the threat of torture he gives full details of their sexual history and pre-contract (which Katherine kept from Henry, and which gives him grounds to annul their marriage).  Seymour is unconvinced, however, that Dereham hasn't been fornicating with Katherine while she was Queen, since she appointed him her personal secretary.  He has Dereham tortured until Dereham finally confesses the Queen had an affair with Culpepper, not him.  After the court finds them both guilty of treason, Henry vengefully orders Dereham hanged, drawn and quartered (Culpepper is merely beheaded, because Henry hates Dereham worse for 'spoiling Katherine for me')  Emaciated and bloody from his previous torture, Dereham is dragged up to the scaffold at Tyburn just as Culpepper is decapitated; his brutal, agonizing execution is then carried out.
Quotes
[
]
Francis Dereham:(screaming) "It wasn't me!  Someone else knew her while she was Queen!"
Edward Seymour: "Who?.... WHO?!"
Francis Dereham: (sobbing) "Thomas... Culpepper."