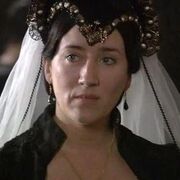 Arthur Tudor, Prince of Wales
Prince Arthur of Wales was the son of Henry VII and Elizabeth of York. He was the first in line to the throne and represented the physical union of the house of York and of Lancaster. He married Catherine of Aragon in 1501 when he was only fifteen years old.
In the spring of 1502 Arthur and Catherine were taken ill with a well-known malady of the time, "sweating sickness." Catherine recovered from the illness; Arthur died of it on April 2, 1502 after a mere five months of marriage.